In this post we'll cover the installation of NSX : prepare hosts, configure VXLAN, Segment and Transport Zone,
To prepare the configuration of VXLAN, we need to create a VTEP pool for Hosts,
To to do it, we have to select on the left menu 'Groups and Tags' -> IP Pools, and click on '+ ADD'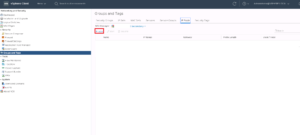 In this step, we put the name of the Pool, Gateway, DNS and IP range,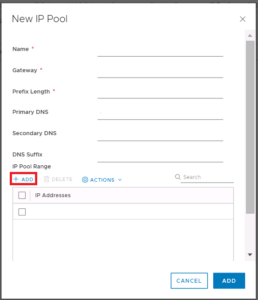 Now, we see the new pool, it will be used later for VTEP,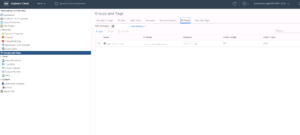 Go to Installation and Upgrade in the left menu then select Host Preparation,
Select the cluster which you wish to install NSX to and click INSTALL NSX then Yes. Note that NSX installation is done on a per cluster basis so all hosts will need to be prepared.

We are now ready to configure our hosts, so go to 'Installation and Upgrade' select your compute cluster, click on ' Configure'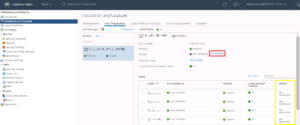 Ensure the correct Switch is selected, Set the VLAN ID which is our transport VLAN. Configure the MTU remember 1600 is the minimum,
The vmkNIC IP Addressing section shows that we can select DHCP or IP Pool, we are using the VTEP Pool created before,
I'll be using two VTEPs in my lab which is the most common deployment method and I will be using Load Balance – Source ID (SRCID)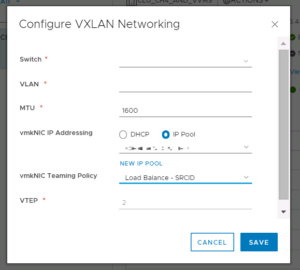 Once the configuration is complete if we pick a host and click 'VIEW DETAILS' we can see the VMkernels that have been installed.

Segment IDs are configured under 'Installation and Upgrade' and then the 'Logical Network Settings' tab.
For a standalone i.e. single site deployment we only need to set the normal Segment ID pool. however as we are deploying a dual site configuration we will also need to configure the Universal Segment ID Pool.
Universal in NSX means anything that is replicated and used across sites. Click here to learn more about it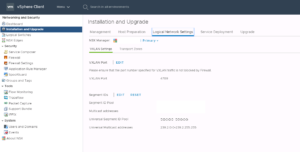 We are now able to configure our ID pool ranges. Before doing so you must plan out how large the range needs to be based on the total number of logical switches you plan to deploy throughout the life of the environment.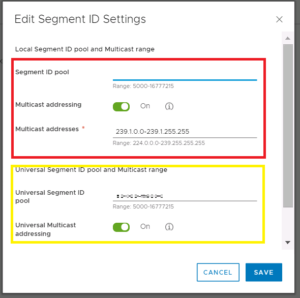 In our case, we are configuring a cross NSX manager, that's why we have Universal Segment,
If we are working on standalone NSX manager mode, we will not have the Universal Segment,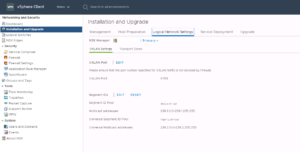 A transport zone is used to define the scope of a VXLAN overlay network and can span one or more vSphere clusters. The transport zone defines a collection of ESXi hosts that can communicate with each other and defines the span of logical switches.
We start the Transport zone configuration on the Primary NSX Manager.
The first Transport Zone (TZ) was created on Primary NSX manager, configured with the Universal TZ, remember there can only be 1 Universal TZ.  Universal Synchronization is marked to 'On'
On the Secondary NSX Manager, we are going to create local Transport Zone,
Browse to 'Installation and Upgrade' 'Logical Network Settings' 'Transport Zones' then click on '+ ADD'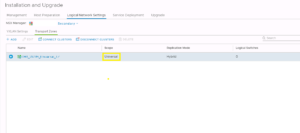 The Second Transport Zone (TZ) we are going to configure is the TZ, we can have many local TZ. Give it a name,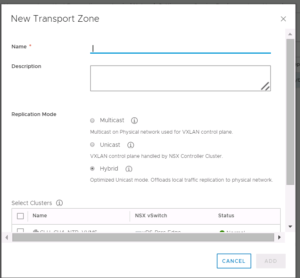 We now have two Transport Zones on our NSX Manager, the universal and the local,
To connect Clusters to our Transport Zone, select the right TZ and click on 'CONNECT CLUSTERS'
Let's go to the configuration of Switch and Router 😀